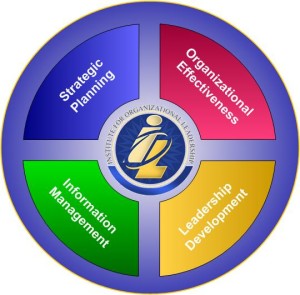 Institute for Organizational Leadership

The Institute for Organizational Leadership is an educational consulting group specializing in strategic planning, organizational effectiveness, leadership development, and information management. We collaborate with business, government, education, and service groups to help improve organizational performance.
Our Mission
We exist to improve the organizational effectiveness of our clients.
Our History
The Institute for Organizational Leadership was founded in 1993 by Dr. Jim and Lynette Chambers in response to growing requests for assistance with organizational matters by business, religious, and community leaders. IOL is a not-for-profit 501 (c) 3 educational institution with faculty, consultants, and strategic partners operating in the US and abroad.
Prior to starting IOL, Dr. Chambers built a reputation for leading and managing growing organizations. As a ministry leader, he served on the pastoral staff of the Mount Paran Church of God in Atlanta, Georgia. Mount Paran became one of American's largest and most innovative ministries during the 1990′s with more than 14,000 people attending five locations each week. He has also served as an undergraduate and graduate professor at several educational institutions, including the University of Phoenix School of Advanced Studies, Northwest Bible College, Church of God Theological Seminary, and Beulah Heights University.
During his tenure at Mount Paran, Dr. Chambers conducted extensive research into the most common organizational issues facing business, education, and ministry leaders. The results of his research became the basis for many of the strategic planning, organizational development, and executive coaching services offered by IOL and its partners.
Since its inception, IOL has continued to establish itself as a leading provider of organizational resources both in the US and abroad. The company has built a strong reputation for getting results and has established strategic partnerships with individuals and companies from a broad range of fields which it often leverages on behalf of its many clients.
In 1998, IOL relocated its home offices to the AFC Worldwide Express headquarters building located at 975 Cobb Place, Blvd. Suite 101, Kennesaw, Georgia. The move came at the generous request of Glenn and Regina Henderson, the owners of AFC and long-time supporters of the IOL vision. It was later moved to 2100 Barrett Park Drive, Suite 501 in Kennesaw, Georgia in order to accommodate expansion of both organizations.
Today, IOL operates its corporate offices in a small community in Northern Arkansas and Atlanta, GA.  You can contact the IOL office between 9:00 am and 5:00 pm M-F at 770-419-1716.
Our IRS 501 (c) (3) Status
The Institute for Organizational Leadership (IOL) operates under the United States Internal Revenue Service (IRS) exempt status under section 501 (a) of the Internal Revenue Code as a 501 (c) (3) educational entity. IOL does accept contributions from individuals and groups, and all required IRS documents and forms are available for review by contacting the IOL office.